Free Boots Project of Rock Rooster
Every pair of work boots tells a story. A crease, a wear and tear, all telling of its extraordinary.
Thank you for being our valued customer and be willing to share your story with Rock Rooster boots.
What do you need to do?
Take a photo for your Rock Rooster work boots
Post it on your FB or IG page (Format: Photo & Hashtag #RockRooster #TheStoryofMyBoots, As shown in the picture.)
Message the link of post to us (me/RockRooster1984)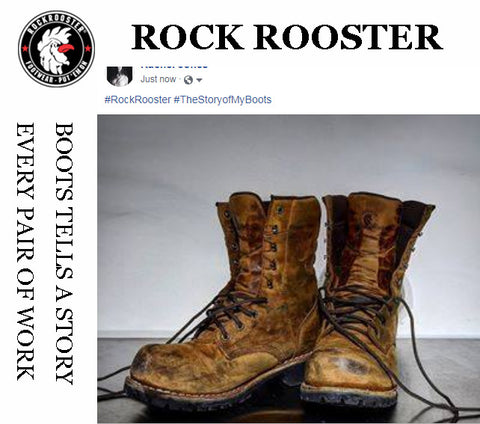 What will you get?
We will pick out the excellent photos that meet the rules every month and offer a    free pair of work boots to them.
Note:
The project is only for customers who have bought at least one pair of Rock Rooster boots.
Be sure to post in the specified format and message the link of post to us.
We will publish the results of last month on our Facebook page (@rockroosterofficial)on the 10th of every month.